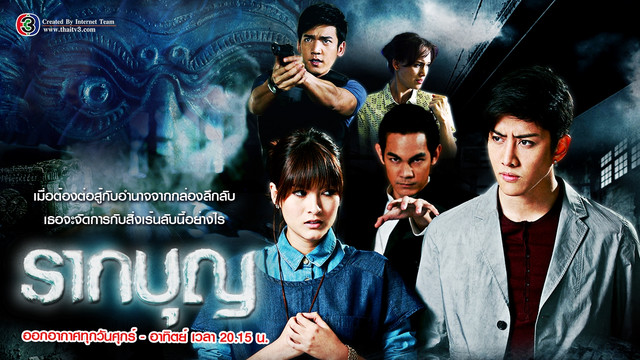 Details




Title

:
Rark Boon
Also known as:

Holy Source/ Underlying the Merit



Duration:

11 Episodes


Genre:

Drama/Mystery/Horror/Suspense/Romance


Broadcast network:

Channel 3



Synopsis
Jetiya aka Jay (
Margie Rasri Balenciaga) works at Lapin aka Ton (Mike Pirath Nitipaisankul) 's dad company, that takes care of dead body and arranges the funerals. Jay was given the rark boon (holy source) which is a box by Ton's father before he die. The rark boon will grant the owner any wish they want. Jay's only wish is for her mom to get better since she has kidney failure. Whoever is the own of the rark boon will also have the sixth sense of seeing the dead. In order to get the wish from the rark boon, the own, which is now Jay fulfill the dead person last wish which is usually to find out who killed them.
Jay was also given 10% of the company. Lapin and his mom thinks that Jay is the dad's mistress so Lapin doesn't like jay at the beginning. Lapin also has an uncle (mom's younger brother) name Pisai (Go Gosin Ratchakrome) who is evil and want to take over the company. Through each mystery of helping the dead, Jay and Lapin starts to develop love toward each other.
Watch to see how they end up with each other. (credit to YeuCandy)
Download Links:
Subtitles:

English HardSub
File Size: 300-400MB
File Type: mp4
Credits: Thanks to
Wishbonika for her hard work subbing t

his lakorn!
Joiner, Encoder, Uploader:
Charmy & YeuCandy